2017 NATS Summer Workshop
July 20-21, 2017
University of Colorado – Boulder
The exciting experience of regional NATS Student Auditions, where singers perform and receive written feedback, is now an annual national competition with total prizes of over $35,000!
Would you like to contribute to NATS Cascade Chapter scholarship accounts?
Click HERE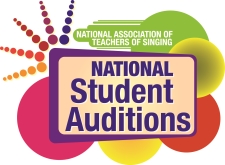 How It Works: The long-standing tradition of regional NATS Student Auditions now offers the opportunity for the top performers in each region to compete with other top artists from around the country. Students of NATS members will begin by performing during their regional auditions. Five singers from each regional category will advance to a national online screening round, where entrants will submit a video of their performances for adjudication by a panel of national judges. Fourteen singers from each of the 14 categories (plus the Hall Johnson Spirituals Competition during conference years) will advance to the semifinal round where three singers from each category will be selected to compete in the final round.  The national semifinal and final rounds will be held in conjunction with the 2017 NATS Summer Workshop – July 20-21 in Boulder, CO.
Entry Fee: $75 per category
Prizes: Prizes for 1st, 2nd and 3rd place will total at least $35,000.
Competition Dates: Online national screening begins in April 2017, with the national semifinals and finals scheduled as part of the 2017 NATS Summer Workshop – July 20-21 at the University of Colorado – Boulder.
Deadline to Apply: April 23, 2017 (applications by emailed invitation only following regional auditions)
---
NATS Artist Award Competition
Northwest Region
October 27 – 28, 2017
Portland State University
1825 SW Broadway
Portland, OR 97232
Contact: Nancy Bos, northwestern@nats.org
---
2017 Musical Theater Student Auditions
November 18-19, 2017
Marylhurst University
Jill Soltero, Host (jillsoltero@gmail.com)
---
2018 Classical Student Auditions
January 27/28, 2018
University of Portland
Nicole Hanig, Host (nicole.leupp.hanig@gmail.com)
Sarah Maines (themainestudio@gmail.com) and Beverly Park (beverly.park@comcast.net), Audition Co-Chairs
---
PAST FESTIVAL EVENTS:
2017 Classical NATS Student Auditions
January 28, 2017
Pacific University
2016 Musical Theatre NATS Student Auditions
November 5, 2016
Lewis & Clark
Host: Sue McBerry
---
NSA auditions in Chicago in July 2016
We are so please to share that we sent 9 students from our chapter to compete in the final live rounds of the NSA auditions in Chicago in July 2016:
I High School Music Theater Women, Hannah Boyack, Teacher: Allison Swensen-Mitchell
I High School Music Theater Women, Sunday Manisto-Saari, Teacher: Linda Appert
I High School Music Theater Women, Andrea Reichle, Teacher: Vanessa Jump Nelson
II High School Music Theater Men, Isaiah Zimmerman, Teacher: Kay Joham
III High School Classical Women, Olga Melendez Valdes, Teacher: Allison Swensen-Mitchell
IX Upper College/Independent Studio Music Theater Women, Shahayla Ononaiye, Teacher: Jamie Jacobson
IX Upper College/Independent Studio Music Theater Women, Natalie Pate, Teacher: Allison Swensen-Mitchell
V Lower College/Independent Studio Music Theater Women, Paris Rumbolz, Teacher: Kara Quello
XIII Advanced College/Independent Studio Women, Rebecca Sacks, Teacher: Ruth Dobson
---
Past Honors Recital Programs:
Classical 2016 Honors Recital Program
Musical Theater Fall 2015 Honors Recital Program
Classical Spring 2015 Honors program
Musical Theater Fall 2014 Honors Recital Program
Classical Fall 2013 Honors Recital Program
Classical Spring 2013 Honors Recital Program
Musical Theatre 2012 Honors Recital Program
Classical 2012 Honors Recital Program
Musical Theatre 2011 Honors Recital Program